This is one of the important articles for all Database Administrator who are playing with the SQL Server Error Logs.
Generally, we are checking an error log file to monitor and troubleshoot error related to SQL Server.
But the problem is, when we require to find errors related to the particular process, It is difficult to filter out particular error because at that time we should use windows find utilities.
In this post, I am providing the script to manipulate all error logs using T-SQL.
Script to list out all error log files:
You can find all list of error log files with a file size and Archive File number.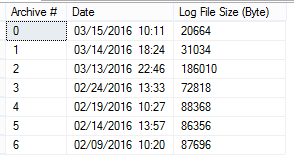 Script to SELECT error log of a particular file by giving a file number:
File number '0' is for current file.
EXEC

[master].[dbo].[xp_readerrorlog]

0
CREATE TEMP table to store all error logs for better manipulation:
CREATE

TABLE

#TempErrorLogs

(

,[ProcessInfo]

VARCHAR

(50)

GO

INSERT

INTO

#TempErrorLogs

([LogDate],

[ProcessInfo],

[

Text

])

EXEC

[master].[dbo].[xp_readerrorlog]

0

GO

Please share your ideas and opinions about this topic with me, your contribution will add true value to this topic.
If anyone has doubts on this topic then please do let me know by leaving comments or send me an email.

If you like this post, then please share it with others.
Please follow dbrnd.com, I will share my experience towards the success of Database Research and Development Activity.

I put up a post every day, please keep reading and learning.
Discover Yourself, Happy Blogging !
Anvesh M. Patel.