In the previous post, I shared T-SQL script to generate a DeadLock situation in SQL Server Database.
In this post, I am sharing different scripts to detect a Deadlock in SQL Server.
1. Using SP_LOCK, you can find the WAIT status for blocking sessions: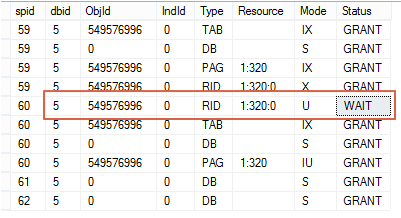 2. Using sys.sysprocesses:
SELECT

*

FROM

sys.sysprocesses
3. Using common DMV:
der.blocking_session_id

AS

BlockingSessionID

,dest.

text

AS

BlockingStatement

FROM

sys.dm_exec_connections

AS

sdec

INNER JOIN

sys.dm_exec_requests

AS

der

ON

sdec.session_id

=

der.blocking_session_id

INNER JOIN

sys.dm_os_waiting_tasks

AS

dowt

ON

der.session_id

=

dowt.session_id

CROSS

APPLY

sys.dm_exec_sql_text(sdec.most_recent_sql_handle)

AS

dest
4. Using sys.dm_tran_locks:
request_session_id

AS

SPID

,DB_NAME(resource_database_id)

AS

DatabaseName

,resource_type

AS

LockedResource

,request_mode

AS

LockType
5. Enable required trace flags to log DeadLock related information in Tracefile:
6. Count total number of DeadLock:
SELECT

cntr_value

AS

TotalNumberOfDeadLocks

FROM

sys.dm_os_performance_counters

WHERE

counter_name

=

'Number of Deadlocks/sec'

AND

instance_name

=

'_Total'
7. Using Extended Events and below script to create Extended Event to monitor DeadLock:
CREATE

EVENT

SESSION

[Deadlock_Monitor]

ON

SERVER

ADD

EVENT

sqlos.scheduler_monitor_deadlock_ring_buffer_recorded,

ADD

EVENT

sqlserver.lock_deadlock,

ADD

EVENT

sqlserver.lock_deadlock_chain,

ADD

EVENT

sqlserver.xml_deadlock_report

ADD

TARGET

package0.event_file(

SET

filename

=

N

'C:\Temp\Deadlock_Monitor.xel'

)

WITH

(MAX_MEMORY

=

4096

KB,EVENT_RETENTION_MODE

=

ALLOW_SINGLE_EVENT_LOSS,MAX_DISPATCH_LATENCY

=

30

SECONDS,MAX_EVENT_SIZE

=

0

KB,MEMORY_PARTITION_MODE

=

NONE

,TRACK_CAUSALITY

=

OFF

,STARTUP_STATE

=

ON

)

GO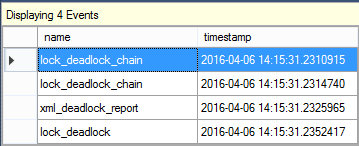 You can also use SSMS to create Extended Events for DeadLock, and you can monitor the live status of the server.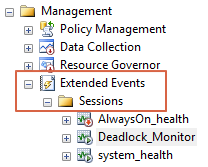 8. Using SQL Server Profiler:
SQL Server Profiler has three different events to capture a deadlock.

Please share your ideas and opinions about this topic with me, your contribution will add true value to this topic.
If anyone has doubts on this topic then please do let me know by leaving comments or send me an email.

If you like this post, then please share it with others.
Please follow dbrnd.com, I will share my experience towards the success of Database Research and Development Activity.

I put up a post every day, please keep reading and learning.
Discover Yourself, Happy Blogging !
Anvesh M. Patel.