SQL Server 2016 introduced additional configuration tab of TempDB while running the installation of SQL Server.
When you are hunting like "How to improve the performance of TemoDB", you can find one standard solution like split your TempDB into multiple data files.
Now with the SQL Server 2016 CTP3, you can set multiple data files while installing SQL Server.
Next question should be, how many total numbers of data files we can set for TempDB?
It defined the rule of this like If you have 2 Core CPU, you can set 2 Data Files, 4 CPU CORE = 4 Data files, 8 CPU CORE = 8 Data Files. You can create maximum 8 Data files so for 16 CPU CORE = 8 Data Files only.
You can check the below sample screen shot.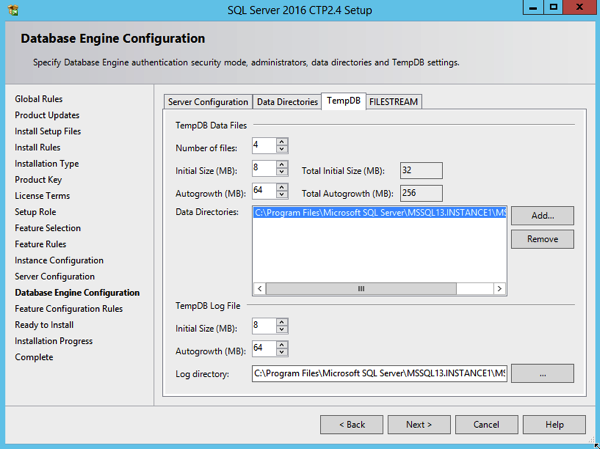 Please share your ideas and opinions about this topic with me, your contribution will add true value to this topic.
If anyone has doubts on this topic then please do let me know by leaving comments or send me an email.

If you like this post, then please share it with others.
Please follow dbrnd.com, I will share my experience towards the success of Database Research and Development Activity.

I put up a post every day, please keep reading and learning.
Discover Yourself, Happy Blogging !
Anvesh M. Patel.